UMH HEXAGON
Premium filter with energization
The UMH Hexagon is a very easy to install plug and play system that can be installed within minutes under any kitchen sink, in practice areas, offices, company kitchens. By means of a Duo quality filter from Carbonit, all common heavy metals, hormones, pesticides, bacteria, microorganisms, fungi, yeasts, chlorine, DDT, drug residues, microplastics and much more are safely removed from the tap water. However, the minerals remain intact.
After filtering, the water is energized, hexagonally structured and made optimally available to cells with the newly developed UMH device, which contains 10 different handmade glass vials as a highly stable energy field. When selecting the cartridges, consideration was also given to any UV treated water.
A completely new brass quality also ensures an even higher energy level of the treated water. During installation, only one hose is screwed from the angle valve to the UMH Hexagon filter and another one is returned from the Hexagon to the existing faucet. There is no need for time-consuming rebuilding of the faucet, as the unit supplies enough water for the cold water faucet at 6 liters per minute. This saves you expensive installation costs and the Hexagon device can be easily installed by any building technician. In the event of a filter change / malfunction, the hoses can be easily connected to each other, thus guaranteeing a safe and uninterrupted water supply at all times.
Watch our UMH Hexagon ProduCt-Video: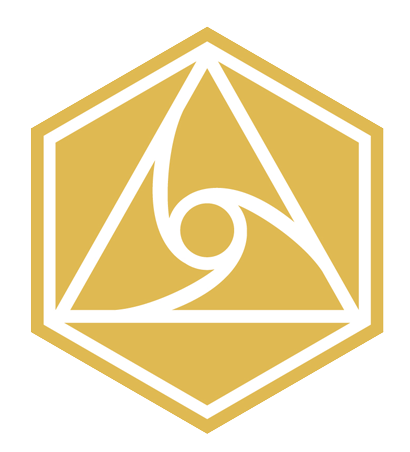 5 years warranty
On function and equipment technology
5 months money back guarantee
if the mode of action is not satisfactory
Areas of application
Faucet kitchen, office, practice / Also available as a countertop filter with faucet / Protect from frost. Use only with cold water.
Technical data
| | |
| --- | --- |
| Length in mm: | 280 |
| Width in mm: | 180 |
| Height in mm: | 300 |
| Flow rate liters/min: | 4-6 Liter |
| Weight in kg: | 6 |
Advantages
Removal of pollutants / minerals are retained
Purifies the water with activated carbon block
Deletion of the pollutant frequencies
Improvement of the cellular water absorption capacity
Improvement of the cellular nutrient uptake capacity
Crystalline spring water structure
Stable bioenergies
Noticeably soft and fresh taste
Without electricity, without chemistry, without magnets
Environmentally friendly & resource saving
Hexagon activated carbon block filter
DESCRIPTION
The Filwatec activated carbon block is a sintered activated carbon filter for drinking water filtration. With a pore size of about 0.6 μm as well as a 55% increased activated carbon mass compared to the NFP Premium cartridge and thus higher absorption capacity, dissolved pollutants as well as particles and microorganisms can be removed from the water even more safely.
PERFORMANCE PARAMETERS
Item number:
Flow:
Filter unit:
Dimensions:
Filter performance:
GFP-D
2-3 liters / min (at 4 bar, after 5 minutes run-in time)
0.6 µm
D = 76 mm, L = 246.5 mm (incl. flat gasket)
10,000 liters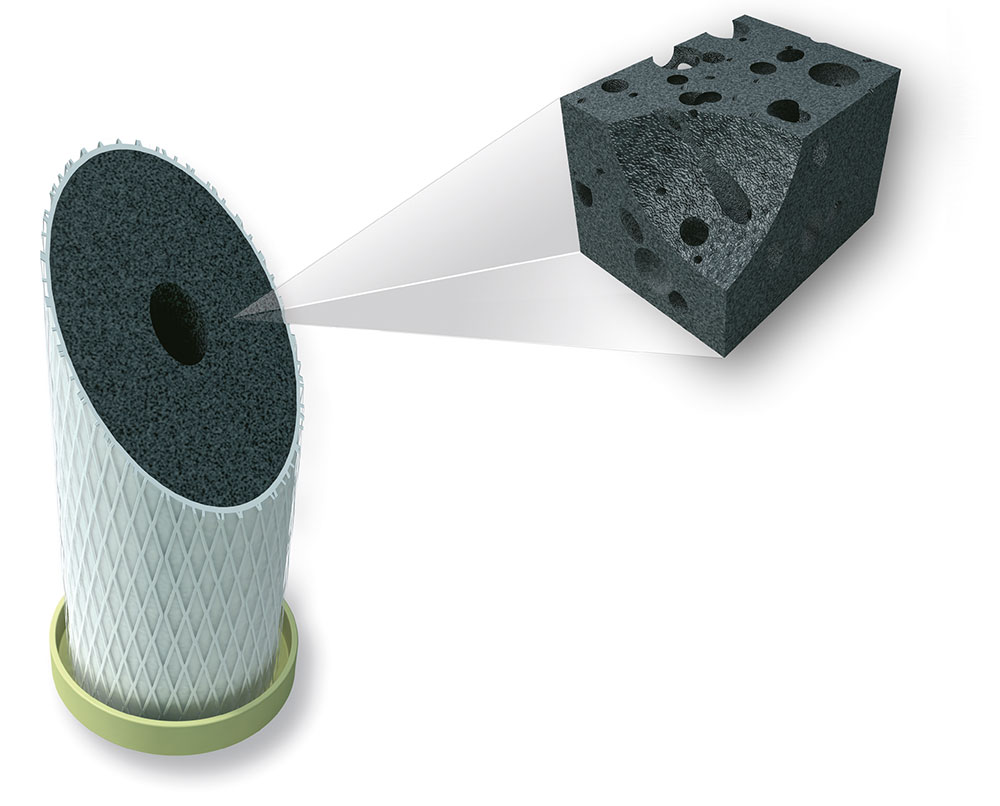 DURATION OF USE
According to DIN 1988, the filter cartridge should be replaced after six months. As a rule, the filter is changed 1x per year. However, an earlier change may be necessary if the water flow is noticeably reduced.
POLLUTANT RETENTION
Pollutants dissolved in water, odors and tastes are permanently removed by adsorption. The pore size of 0.6 μm safely retains particles, bacteria and much more. The adsorptive retention rate (ARR) is 120% and the retention capacity (ARK) is 130% compared to Carbonit's NFP Premium cartridge. Therefore, the independent expert opinions issued for the NFP Premium cartridge apply without restriction to the GFP Premium cartridge.
The following parameters have been demonstrated for NFP Premium:
| | | |
| --- | --- | --- |
| Lead1, Copper1 | TÜV | > 90 %* |
| Bacteria2, microorganisms, fungi/yeasts | GFT / Bielefeld University | > 90 %* |
| Chlorine1, Chloroform1, Lindane1, DDT1, Atrazine1 | tti Magdeburg GmbH / HS Magdeburg | > 90 %* |
| Drug residues1, Polar pesticides1 | Berlin University of Technology | > 90 %* |
1.) Test with load over service life of 6 months
2.) Test with load over filter capacity of 10,000 liters.
* ) The exact retention values and test conditions can be seen in the expert reports,
which you can download at www.carbonit.com.
The expert opinions on performance and hygiene were confirmed by TÜV Berlin-Brandenburg. In addition, CARBONIT NFP Premium received the LGA certificate for tested safety according to German food law.
Filwatec activated carbon block premium cartridges are manufactured in an environmentally friendly way from mainly renewable raw materials by Carbonit for Filwatec. (
www.filwatec.de
)
Learn more about our
UMH Filters & Osmosis

Reliable information about UMH technology can be obtained from the following dealers or their homepages. We deliberately enter into partnerships with companies that sell our products in Europe in accordance with ethical principles and are local contacts for our customers.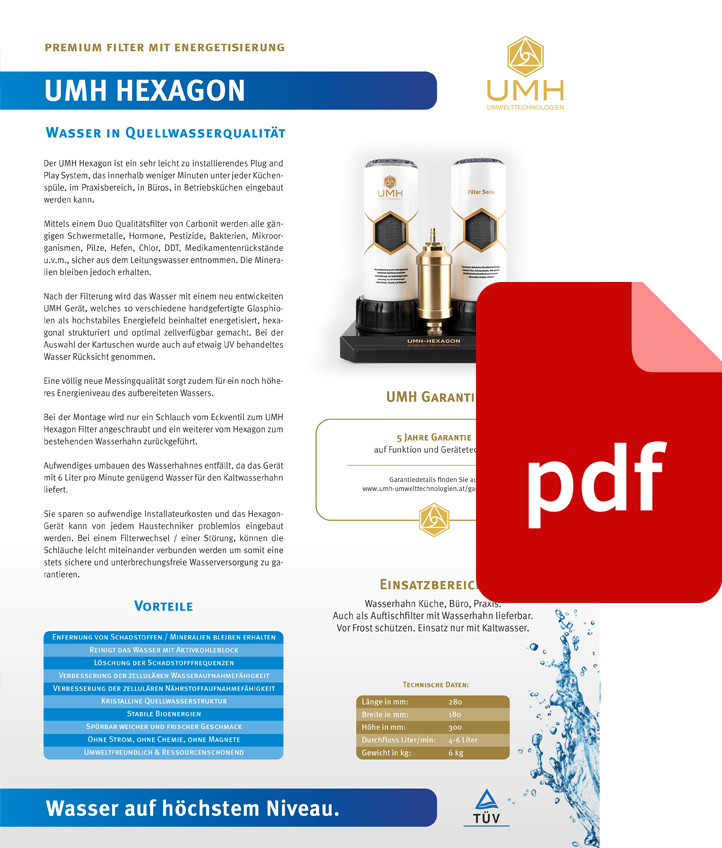 Here you can download the product data sheet.