UMH-SANGO – Remineralization filter for osmosis plants
The UMH remineralization filter performs an enrichment of osmosis water with minerals as well as trace elements and thus enables an optimal subsequent energization. It increases the pH of the water and enriches it with natural calcium, magnesium and another 70 trace elements. This significantly improves the energizing capacity and, above all, the cell availability of the treated water. Hexagonal structures can be formed in the water again. According to Dr. Warnke, calcium is a structure-forming ion, along with iron and other minerals.
The simple assembly takes place directly after the osmosis system with John Guest connections. This is followed by the assembly of the UMH Pure or Master device.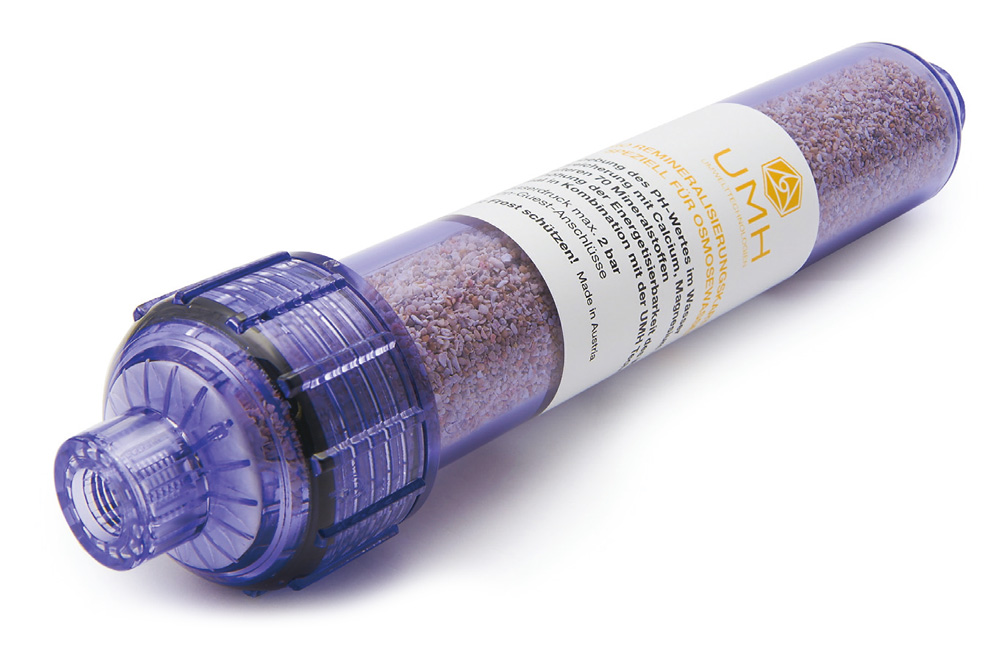 Technical data
| | |
| --- | --- |
| Length in mm: | 305 |
| Diameter in mm: | 61 |
| Flow rate liters/min: | 3 |
| Connections with JG connector: | 1/4 " |
| Shelf life of the granules: | approx. 2 years |
Reliable information about UMH technology can be obtained from the following dealers or their homepages. We deliberately enter into partnerships with companies that sell our products in Europe in accordance with ethical principles and are local contacts for our customers.
Here you can download the product data sheet.