UMH Research Results
and expert opinions
UMH – convincing quality – scientifically tested
The mode of action and quality of our products has been extensively tested. Numerous scientific reports prove the effect of our UMH devices:
Electroluminescence measurements according to Dr. A. Popp
Dr. Popp confirms the effective effect of UMH technology on the basis of physical biophoton measurement:
"What's amazing is the clarity of the effects."
Water crystals according to Masaru Emoto
Dr. Emoto evaluated for the Fa. Bohres water samples of metropolitan water before and after UMH energization and also certified excellent results.
Quantum fractal images according to Dr. Töth and
DI Pfaffenbichler
With this procedure by Dr. Töth and DI Pfaffenbichler, the impressive
Upgrading of the water through UMH energization
be captured photographically.
Colorplate test
from Dr. Knapp
Only the treated water shows a very pronounced bioenergetic potential. Even after several days, this energization is still clearly measurable.
currently available in German only
UV, LF, and HF measurements by Dr. Ludwig
The increased storage of UV light proves the strong structuring of the water molecules. The extinction of pollutant frequencies has been clearly demonstrated by Dr. Ludwig using scientifically recognized measurement methods.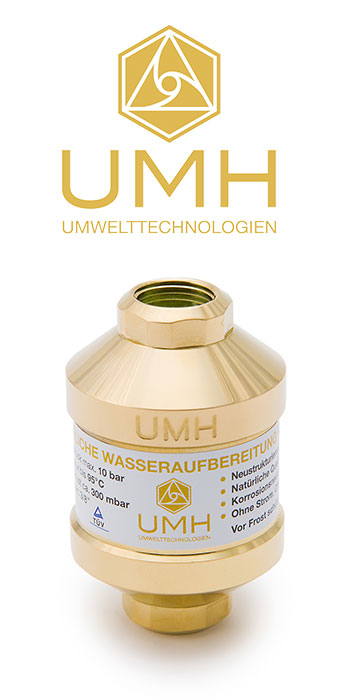 Improved plant growth and animal health
In several test series, the Eisenstadt Agricultural College certified additional yields averaging 13.4% for various tomato varieties.
currently available in German only
Extrahertz measurement of
Dr. Kohfink-Kalagin
Dr. Kohfink-Kalagin confirms absolutely stable preparation, which does not weaken even after days. The water regains the quality of pure water from the Rocky Mountains.
Water crystal pictures
after E. Braun
These studies
confirm very impressively
The revitalization of the previously UV-treated line
water after the
UMH energization.
currently available in German only
Bioelectrical Impedance Analysis (BIA)
With the body impedance analysis, it was impressively demonstrated that Pobands who drank UMH water were able to compensate for the water deficiency in the cells again within a short time.
currently available in German only
Examination of
Dr. Kilibaeva
This result – after treatment – clearly shows the liberation of the water from harmful microorganisms. Even the usual mother colonies are no longer present.
currently available in German only